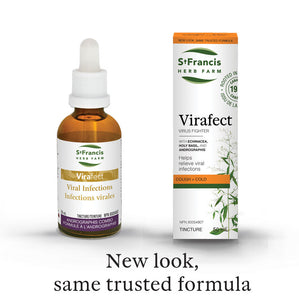 St Francis Herb Farm | Virafect Tincture (50 ml)
Regular price $17.20 Sale
About:
The name says it all: an all-natural herbal formula, specifically designed to tackle viral infections related to cold & flu
Founded on a bedrock of echinacea, a herb well-known for its antiseptic, immune-enhancing qualities
Featuring lomatium, shown by science and clinical practice to be a highly potent antiviral herb (e.g. it protected the Washoe tribe during the Spanish flu)
With wild indigo, a herb that complements and improves the antiseptic properties of echinacea and is especially valuable for treatment of ear, nose, and throat infections
Fortified by andrographis, a powerful immune stimulating anti-infective herb
Dosage:
All doses should be taken three times daily in a little water on an empty stomach. Take at the first sign of infection. For occasional, short term use only
Adults & adolescents (15 & over): 2 mL (60 drops)
Adolescents (10-14 years): 1 mL (30 drops)
Children (5-9 years): 0.5 mL (15 drops)
Children (2-4 years): 0.3 mL (10 drops)
Cautions and Warnings: Consult a health care practitioner before use: if you have an autoimmune disorder, diabetes or a progressive systemic disease such as AIDS and/or HIV infection, tuberculosis, leukosis, collagenosis or multiple sclerosis; if you are taking immunosuppressants, heart or blood pressure or blood-thinning medications; if you are taking other herbs containing thujone (e.g. wormwood, sage, tansy, and juniper). Consult a health care practitioner if symptoms worsen or persist.
Contraindications: Do not use: if you are pregnant or breastfeeding or trying to conceive; if you are allergic to plants of the Asteraceae (daisy) or Acanthaceae family; if you have gastrointestinal irritation or infection.
Known Adverse Reactions: Hypersensitivity (e.g. allergy) has been known to occur, in which case, discontinue use. Discontinue use if rash occurs. Discontinue use and consult a health care practitioner if you experience nausea, vomiting, abdominal cramps, or diarrhea.
Ingredients:
Medicinal Ingredients: Andrographis (Andrographis paniculata, herb top), Wild Indigo (Baptisia tinctoria, root), Echinacea (Echinacea purpurea, herb top and root), Holy Basil (Ocimum sanctum, leaf), Lomatium (Lomatium dissectum, root), Thuja (Thuja occidentalis, herb top), Phytolacca (Phytolacca americana, root)
Non-Medicinal Ingredients: Certified Organic Alcohol, Distilled water