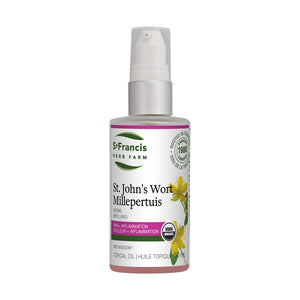 St Francis Herb Farm | St. John's wort Oil (50 ml)
Regular price $21.69 Sale
About:
A classically effective topical ointment used for treating wounds and neuralgic conditions from antiquity
Called "arnica for the nerves" because it's particularly useful for painful, neuralgic conditions
For bruises, contusions, sprains, lacerations, swellings, sunburn, and first-degree burns
Also used for earache (it's part of our Ear Oil formula)
Dosage:
Adults, adolescents and children: Apply 1-2 mL to affected area(s) as needed. For topical use only.
Cautions and Warnings: Consult a health care practitioner if symptoms worsen or persist.
Ingredients:
Medicinal Ingredients: Certified Organic Fresh *St. John's Wort flowers (Hypericum perforatum L.)
Non-Medicinal Ingredients: Certified Organic Extra-Virgin Olive Oil, Certified Organic Rosemary (Rosmarinus officinalis) extract