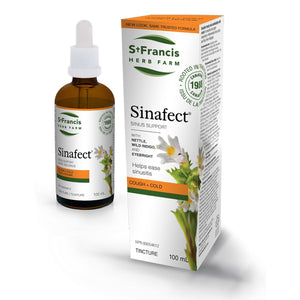 St Francis Herb Farm | Sinafect Tincture (50 ml)
Regular price $18.63 Sale
About:
Featuring the following herbs:
Eyebright, a powerful antimucosal herb
Antihistamine nettle
Antimicrobial wild indigo
Bayberry, a circulatory stimulant
Elder, an antispasmodic herb especially useful for acute and chronic sinusitis
Echinace®, our robust blend of two complementary species of antiseptic, immune-enhancing echinacea
Anti-inflammatory golden rod
Antibacterial goldenseal, which is also a mucous membrane restorative
Southern prickly ash and thuja, both significantly antimicrobial
Dosage:
Adults: Take 2 mL (60 drops) three times daily in a little water on an empty stomach.
Cautions and Warnings: Consult a health care practitioner if symptoms worsen or persist.
Contraindications: Do not use: if you are pregnant or breastfeeding; if you have heart disease, high or low blood pressure, kidney or liver disorder, diabetes or edema (swelling of hands, face, and feet) or are taking products containing diuretics; if you are allergic to plants of the Asteraceae/Compositae/Daisy family.
Known Adverse Reactions: Hypersensitivity (e.g. allergy) has been known to occur, in which case, discontinue use. Stop use and seek medical attention immediately if you experience dizziness, confusion, muscle weakness or pain, abnormal heartbeat and/or difficulty breathing.
Ingredients:
Medicinal ingredients: Eyebright (Euphrasia officinalis, herb top), Nettle (Urtica dioica, herb top), Wild Indigo (Baptisia tinctoria, root), Bayberry (Myrica cerifera, bark), Elder (Sambucus nigra, flower), Echinacea (Echinacea purpurea, root and top), Golden Rod (Solidago canadensis, herb top), Goldenseal (Hydrastis canadensis, root), Echinacea (Echinacea angustifolia, root and rhizome), Southern Prickly Ash (Zanthoxylum clava-herculis, bark), Thuja (Thuja occidentalis, leaf tips)
Non-Medicinal Ingredients: Certified Organic Alcohol, Distilled water, Sweet whey (Bos Taurus – milk), Certified Organic vegetable glycerine