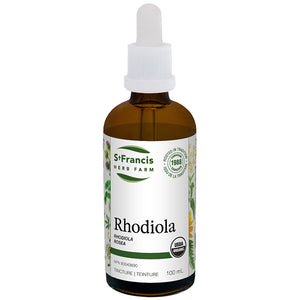 St Francis Herb Farm | Rhodiola Tincture (50 ml)
Regular price $16.25 Sale
About:
Used as an adaptogen to help relieve symptoms of stress such as mental fatigue and sensation of weakness. Helps support cognitive function such as mental focus and mental stamina.
Dosage:
Adults: Take 1.7 mL (50 drops) 3 times daily in a little water on an empty stomach.
Cautions and Warnings: Consult a health care practitioner before use: if you are pregnant or breastfeeding; if you are taking antidepressant medication, hormone replacement therapy (HRT) or birth control pills. Consult a health care practitioner if symptoms worsen or persist. Discontinue use, if you experience irritability or insomnia.
Contraindications: Do not use if you have bipolar disorder or bipolar spectrum disorder.
Ingredients:
Medicinal Ingredients: Certified Organic Rhodiola (Rhodiola rosea, root)
Non-Medicinal Ingredients: Distilled water, certified organic alcohol