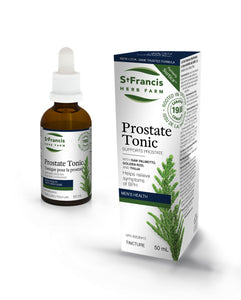 St Francis Herb Farm | Prostate Tonic (50 ml)
Regular price $17.20 Sale
About:
Used in Herbal Medicine to help relieve the urologic symptoms (e.g. weak urine flow, incomplete voiding, frequent daytime and night-time urination) associated with mild to moderate benign prostatic hyperplasia.
Dosage:
Take 2 mL (60 drops) 3 times daily in a little water with food to minimize gastric disturbance.
Cautions and Warnings: Consult a health care practitioner before use to exclude a diagnosis of prostate cancer. Consult a health care practitioner if symptoms worsen or persist.
Contraindications: Do not use if you suffer from edema resulting from impaired cardiac/renal function or if you are allergic to plants of the Asteraceae/Compositae/Daisy family.
Known Adverse Reactions: Hypersensitivity/allergy has been known to occur, in which case discontinue use.
Ingredients:
Medicinal Ingredients: Saw Palmetto (Serenoa repens, fruit), Nettle (Urtica dioica, root), Echinacea (Echinacea angustifolia, root), Golden Rod (Solidago canadensis, flowering tops), Thuja (Thuja occidentalis, top)
Non-Medicinal Ingredients: Distilled water, Certified Organic alcohol, Certified Organic vegetable glycerine