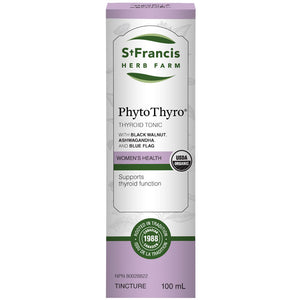 St Francis Herb Farm | Phytothyro Tincture (50 ml)
Regular price $16.25 Sale
About:
Use this finely crafted multi-herb Phytothyro liquid formula to help the function of your thyroid, particularly if it's underactive
Assists function of thyroid
Addresses symptoms such as weight gain and lethargy
Eases tiredness associated with low thyroid function
Featuring bladderwrack
With guggul, a sap from the guggul tree that has traditionally been used to support weight loss
Dosage:
Adults: Take 1-2 mL (30-60 drops) 3 times daily in a little water on an empty stomach.
Cautions and Warnings:vConsult a health care practitioner if you are taking thyroid replacement therapies or lithium. Consumption with alcohol, other drugs or natural health products with sedative properties is not recommended. Consult a health care practitioner if symptoms worsen or persist.
Contraindications:vDo not take: if you are pregnant or breastfeeding; if you have hyperthyroidism.
Known Adverse Reactions: Hypersensitivity reactions are known to occur, in which case discontinue use.
Ingredients:
Medicinal Ingredients: Bladderwrack (Fucus vesiculosus, thallus), Black Walnut (Juglans nigra, unripe green hull), Ashwagandha (Withania somnifera, root), Milky Oat Seed (Avena sativa), Guggul (Commiphora mukul, resin), Blue Flag (Iris versicolor, rhizome)
Non-Medicinal Ingredients: Distilled water, Certified Organic alcohol