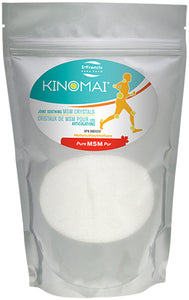 St Francis Herb Farm | Kinomai, MSM Crystals (500 g)
Regular price $24.41 Sale
About:
MSM helps to relieve the joint pain associated with osteoarthritis, especially osteoarthritis of the knee. It's the safer solution to arthritic pain that actually works!
MSM stands for Methylsulfonylmethane, which is organic sulfur. When it rains, MSM falls to the ground and is used by plants. Your body needs MSM and contains some, but not nearly enough. If you had more MSM in your body, you would suffer far less of the pain and suffering that comes with arthritis.
MSM – a highly effective natural anti-inflammatory sulfur compound that's great for arthritis, as well as being an immune system modulator
*MSM (Methylsulfonylmethane)
Dosage:
Adults: take ½ tsp (1,700 mg) 3 times daily mixed with 250 ml of water, tomato, or fruit juice. Take with food and avoid taking at bedtime.
Cautions and Warnings: Consult a health care practitioner before use if you are pregnant or breastfeeding. Some people may experience mild gastrointestinal bloating, constipation, or indigestion. Consult a health care practitioner if symptoms worsen.
Ingredients:
Medicinal Ingredients: MSM (Methylsulfonylmethane) pure white crystalline