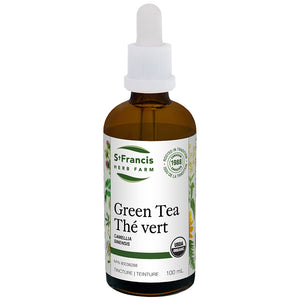 St Francis Herb Farm | Green Tea Tincture (50 ml)
Regular price $14.89 Sale
About:
Boost your mental alertness and wakefulness with the remarkable antioxidant action of our Green Tea Tincture.
A high concentration of powerfully antioxidant polyphenols
Immune support
Free-radical scavenging action
Nervine tonic
Dosage:
Adults: Take 2 mL (60 drops) 3 times daily in a little water on an empty stomach.
Cautions and Warnings: Consult a health care practitioner before use: if you are pregnant or breastfeeding; if you have an iron deficiency; if you have a liver disorder or develop symptoms of liver trouble (such as abdominal pain, dark urine or jaundice).
Known Adverse Reactions: Stop use and consult a healthcare practitioner if you develop symptoms of liver trouble such as yellowing of the skin/eyes (jaundice), stomach pain, dark urine, sweating, nausea, unusual tiredness and/or loss of appetite. Rare, unpredictable cases of liver injury associated with green tea extract-containing products have been reported.
Ingredients:
Medicinal Ingredients: Certified Organic Green Tea (Camellia sinensis, leaf)
Non-Medicinal Ingredients: Distilled water, certified organic alcohol