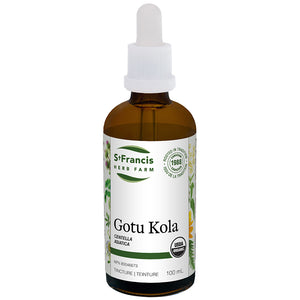 St Francis Herb Farm | Gotu Kola Tincture (50 ml)
Regular price $17.20 Sale
About:
Our Gotu Kola Tincture is a calmative for restlessness and nervousness and also acts as a tonic for the mind to improve memory.
A classic Ayurvedic herb for improved emotional balance and mental clarity
Clinically proven to enhance memory and intellect
Shown by research to reduce stress and anxiety by increasing GABA concentration in the brain
Supports venous system, varicose veins and hemorrhoids
Dosage:
Adults: Take 2 mL (60 drops) 3 times daily in a little water before meals.
Cautions and Warnings: Consult a health care practitioner before use: if you are pregnant or breastfeeding; if you have a liver disorder. Consumption with alcohol, other medications or natural health products with sedative properties is not recommended. Discontinue use and consult a health care practitioner if you experience nausea and/or gastrointestinal upset that persists. Consult a health care practitioner if symptoms worsen or persist.
Ingredients:
Medicinal Ingredients: Certified Organic Gotu Kola (Centella asiatica, leaf)
Non-Medicinal Ingredients: Distilled water, certified organic alcohol