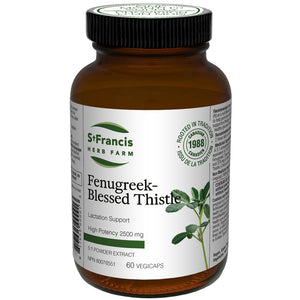 St Francis Herb Farm | Fenugreek / Blessed Thistle (60 Capsules)
Regular price $25.16 Sale
About:
This Fenugreek-Blessed Thistle Capsules bring together two companion herbs, making for a classic synergy that promotes milk production in breastfeeding mothers
With fenugreek seeds, used from earliest times to increase milk supply in breastfeeding mothers
Fenugreek: a nutritive tonic rich in saponins and a type of fibre called mucilage
Fenugreek: contains minerals and vitamins like thiamin, folic acid, riboflavin, niacin, vitamins A, B6, and C, not to mention an abundance of vitamin K.
Fenugreek: with an insulin-like effect that helps lower blood glucose levels
Fenugreek: cholesterol lowering
Fenugreek: complemented by blessed thistle, which is a penetrating bitter and a liver and digestive tonic
Dosage:
Adults: Take 1 capsule twice daily on an empty stomach.
Warnings: Consult a health care practitioner before use if you are breastfeeding or if you have diabetes. Consult a health care practitioner if symptoms worsen or persist.
Contraindications: Do not use if you are pregnant or if you are allergic to plants of the Asteraceae/Compositae/Daisy family.
Known Adverse Reactions: Hypersensitivity/allergy is known to occur, in which case, discontinue use.
Ingredients:
Medicinal Ingredients: Dried Certified Organic Fenugreek (Trigonella foenum graecum, seed), dried Certified Organic Blessed Thistle (Cnicus benedictus, herb tops)
Non-Medicinal Ingredients: Hypromellose (vegicap), Maltodextrin