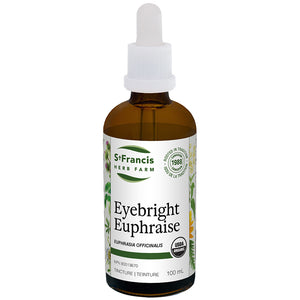 St Francis Herb Farm | Eyebright Tincture (50 ml)
Regular price $17.20 Sale
About:
Find relief from inflammation of the eyes and conjunctivitis, as well as sinusitis, with our Eyebright Tincture.
Anti-inflammatory and astringent
Eases mucous congestion
Provides relief from sinusitis and eye and nasal secretions
Relieves inflammation from conjunctivitis and hay fever allergies
With aucubin, an iridoid glycoside with therapeutic qualities
Dosage:
Adults: Take 1.6-2.4 mL (48-72 drops) 3 times daily in a little water on an empty stomach.
Warnings: Consult a health care practitioner if symptoms worsen or persist.
Contraindications: Do not use if you are pregnant or breastfeeding.
Ingredients:
Medicinal Ingredients: Certified Organic Eyebright (Euphrasia officinalis, tops)
Non-Medicinal Ingredients: Distilled water, certified organic alcohol