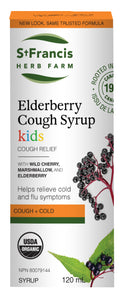 St Francis Herb Farm | Cough Syrup, Kids (120 ml)
Regular price $17.06 Sale
About
A unique, all-natural cough syrup formula made with fresh Elderberry and Wild Cherry Bark blended with honey and essential oils
Formulated for children
Part of a bigger healing picture when it comes to colds and flu
A cough remedy and then some
Great-tasting relief of cold and flu symptoms
Featuring elderberry, a classic antiviral and antibacterial, rich in flavonoid compounds
Also includes wild cherry bark, used over the ages by many indigenous peoples for its anti-inflammatory properties
Dosage:
All doses should be taken 3 times daily a few hours before or after taking other medications or natural health products.
Children and adolescents (10 – 13 years): 3 tsp (15 mL or 1 tbsp)
Children (5-9 years): 1.5 tsp (7.5 mL or ½ tbsp)
Children (2-4 years): 1 tsp (5 mL)
Warnings: Consult a health care practitioner before use: if you are breastfeeding; if you have an autoimmune disorder or are taking immunosuppressants; if you have a progressive systemic disease such as tuberculosis, collagenosis, multiple sclerosis, AIDS and/or HIV infection. Consult a health care practitioner if cough worsens, persists for more than 7 days, or is accompanied by a high fever. Discontinue use and consult a health care practitioner if symptoms reoccur or are accompanied by a fever, rash or persistent headache. Consult a health care practitioner if symptoms worsen or persist
Contraindications: Do not use: if you are pregnant; if you are allergic to plants of the Apiaceae family.
Known Adverse Reactions: Hypersensitivity (e.g. allergy) can occur, in which case, discontinue use. Discontinue use in case of gastrointestinal upsets, such as abdominal cramps, nausea, vomiting, or diarrhea. Diuretic effect may occur. Rare cases of severe allergic reactions have been known to occur; use caution if you are allergic to plants of the Daisy family.
Ingredients:
Medicinal Ingredients: Wild Cherry (Prunus serotina, bark), Marshmallow (Althaea officinalis, root), Echinacea (Echinacea purpurea, herb top and root), Elderberry (Sambucus nigra subsp. canadensis or Sambucus nigra subsp. nigra – berry juice concentrate), Catnip (Nepeta cataria, herb top), Anise (Pimpinella anisum, seed), Thyme (Thymus vulgaris, leaf)
Non-Medicinal Ingredients: Distilled water, Honey, Alcohol, Vegetable glycerine, Lemon peel essential oil (Citrus limon), Cinnamon bark essential oil (Cinnamomum verum).