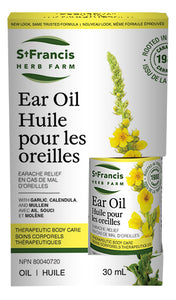 St Francis Herb Farm | Ear Oil (30 ml)
Regular price $15.64 Sale
About:
One of our most popular formulas, our Ear Oil is specifically intended for topical use in the ear as an analgesic for symptomatic relief of pain associated with ear infections (including swimmer's ear)
Features the healing properties of mullein, calendula, garlic, and St. John's wort
Dosage:
Adults and children: Place 5 drops of oil directly in the external ear canal 3 times daily.
Warnings: Consult a health care practitioner before use: if the eardrum is perforated; if you have a discharge from the ear; if you have changes in hearing; if you are pregnant. Consult a health care practitioner if symptoms worsen or persist.
Contraindications: Do not use if you are allergic to plants of the Asteraceae/Compositae/Daisy family.
Known Adverse Reactions: Hypersensitivity (e.g. allergy) is known to occur, in which case, discontinue use.
Ingredients:
Medicinal Ingredients: Mullein (Verbascum thapsus, flower and leaf), Calendula (Calendula officinalis, flower), Garlic (Allium sativum, clove), St. John's Wort (Hypericum perforatum, flower)
Non-Medicinal Ingredients: Certified Organic Extra Virgin Olive Oil