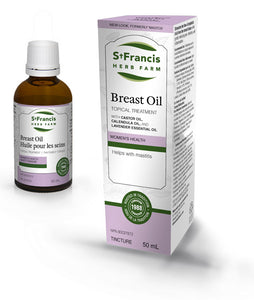 St Francis Herb Farm | Breast Oil (50 ml)
Regular price $17.49 Sale
About:
This Breast Oil is a topical herbal oil blend that stimulates the flow of lymphatic fluid from the breast tissue and is excellent for use by women dealing with mastitis or a breast abscess.
Gently reduces pain, infection, and inflammation in women with mastitis or abscess
Also used over the longer term by those with fibrocystic breasts or breast cysts
With mullein (inflamed glands), calendula (inflamed lymphatic nodes), red clover (inflammatory conditions)
Includes phytolacca, a strong lymphatic stimulant, which aids the flow of toxins out of the breast, while causing an influx of immune cells
With lobelia, used for sprains and bruises
A herbal formula complemented by essential oils
Dosage:
Adult women: Apply topically to affected breast(s) as needed.
Warnings: Consult a health care practitioner before use in order to exclude a diagnosis of inflammatory breast cancer (a condition with symptoms similar to mastitis). Consult a health care practitioner if symptoms worsen or persist.
Contraindications: Do not use: if you are pregnant or breastfeeding; if you are allergic to plants of the Asteraceae/Compositae family. Do not use on open wounds or broken skin or near eyes. For external use only.
Known Adverse Reactions: Hypersensitivity/allergy is known to occur, in which case, discontinue use.
Ingredients:
Medicinal Ingredients: Mullein (Verbascum thapsus, flowering stalk), Calendula (Calendula officinalis, flower), Red Clover (Trifolium pratense, blossom), Phytolacca (Phytolacca americana, root), Lobelia (Lobelia inflata, leaf)
Non-Medicinal Ingredients: Castor oil; Certified Organic extra-virgin olive oil; pure essential oils of French Lavender (Lavandula dentata), Tangerine (Citrus reticulata), Palmarosa (Cymbopogon martini), Rosemary (Rosmarinus officinalis), Celery (Apium graveolens), and Galbanum (Ferula gummosa)