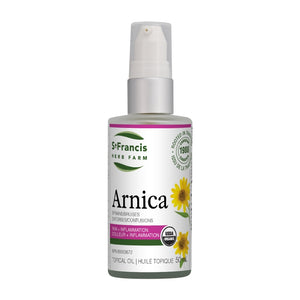 St Francis Herb Farm | Arnica Oil (50 ml)
Regular price $24.41 Sale
About:
raditionally used in Herbal Medicine to help relieve pain and/or inflammation in muscles and joints (such as sprains, bruises, and/or joint pain).
Dosage:
Adults and adolescents (13 years): Apply thinly and evenly to affected area up to 3 to 4 times per day. Rub and/or massage into skin until the preparation disappears.
Warning: For external use only. Avoid contact with the eyes and mucous membranes. Do not apply to wounds or damaged skin. Do not bandage. Do not apply with external heat, such as an electric heating pad, as this may result in excessive skin irritation or skin burn. Breastfeeding women should not apply on or near the nipple
Known Adverse Reactions: Hypersensitivity/allergy has been known to occur, in which case discontinue use.
Ingredients:
Medicinal Ingredients: Certified Organic Arnica flowering tops (Arnica montana) in a 1:5 herb to olive oil ratio
Non-Medicinal Ingredients: Certified Organic Extra-Virgin Olive Oil, Certified Organic Rosemary (Rosmarinus officinalis) extract