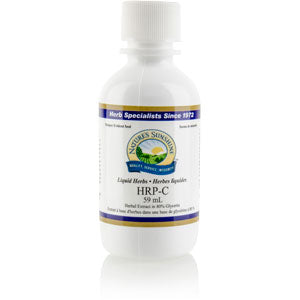 NSP | HRP-C Herbal Extract (59 ml)
Regular price $36.95 Sale
Benefits:
A combination of Traditional Chinese Medicine (TCM) ingredients.
How It Works:
Nature's Sunshine's Chinese herbal combinations are based on 5000 years of Chinese herbal tradition. An important concept in TCM is yin and yang, which stems from the basic Chinese philosophy of the interdependence of opposites. In TCM, the goal is to balance the complementary forces of yin and the yang to achieve optimum health. HRP-C is a yinyang balancing formula developed by the traditional Chinese doctor, Wenwei Xie. When looking for a company to share his formula with, Dr. Xie picked Nature's Sunshine because of NSP's extensive herbal formulating experience and quality assurance.ars of Chinese herbal tradition. Traditional Chinese Medicine (TCM), which includes the use of herbal medicine, continues to provide primary healthcare throughout Asia even in these modern times.
Ingredients:
Medicinal Ingredients: Each teaspoon contains Portulaca oleracea (ma chi xian) herb top 0.1 ml; Strobilanthes cusia (ma lan) leaf 0.1 ml; Strobilanthes cusia (ma lan) root 0.1 ml; Taraxacum mongolicum (pu gong ying) whole plant 0.1 ml; Thlaspi arvense (xi ming) whole plant 0.1 ml; Bupleurum chinense (chai hu) root 0.09 ml; Scutellaria baicalensis (huang qin) root 0.07 ml; Typhonium flagelliforme (shui ban xia) rhizome 0.07 ml; Cinnamomum aromaticum (rou gui) twig 0.05 ml; Glycyrrhiza uralensis (gan cao) rhizome 0.05 ml and Panax ginseng (ren shen) root 0.05 ml all standardized to a 5:1 extract. Non-Medicinal Ingredients: glycerin and purified water.
Recommended Use:
Dosage (adults): Take one teaspoon, two to four times daily.