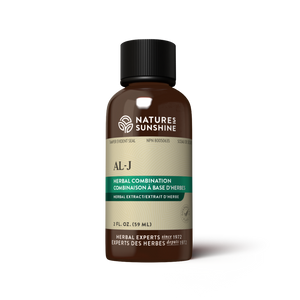 NSP | AL-J (59 ml)
Regular price $29.95 Sale
How It Works:
AL-J is an expectorant formula containing mucilaginous substances which affect mucous membranes. In traditional herbal medicine, expectorants help the body to remove excess mucus from the respiratory tract. Allergic reactions can involve the mucous membranes of the respiratory and digestive tract. Expectorant formulas have been used for centuries in herbal medicine to relieve the uncomfortable symptoms of mucus buildup in the mucous membranes.
Ingredients:
Medicinal Ingredients: Each teaspoon contains Armoracia rusticana (horseradish) root 152.15 mg of a 2:1 extract, Eupatorium perfoliatum (boneset) herb top 152.15 mg of a 2:1 extract, Trigonella foenum-graecum (fenugreek) seed 152.15 mg of a 2:1 extract and Verbascum thapsus (mullein) leaf 152.15 mg of a 2:1 extract. Non-medicinal Ingredients:Glycerin, purified water and Foeniculum vulgare (fennel) seed extract.
Recommended Use:
Dosage (adults):Take one teaspoon (5 mL) four times daily.